Hi!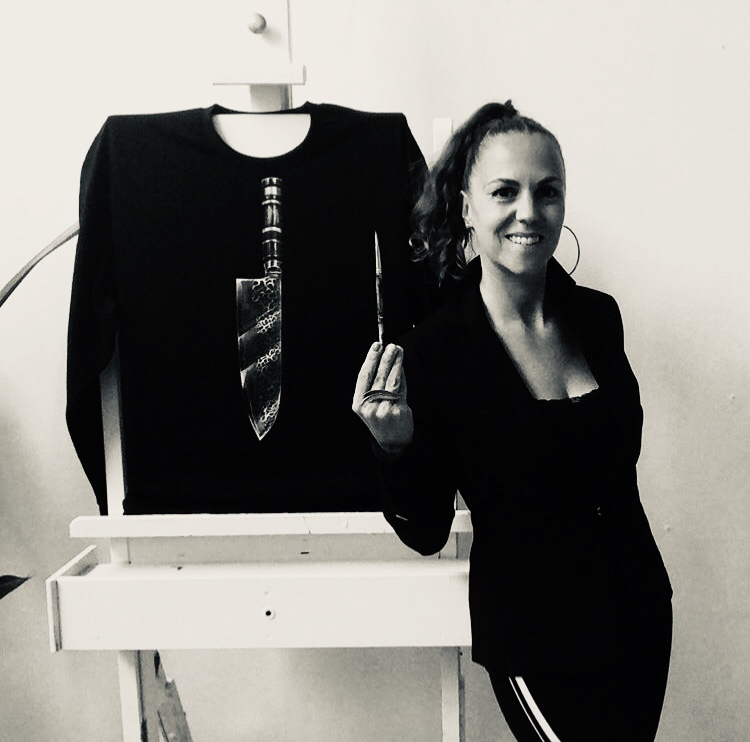 My name is Nadia van Luijk, nice to meet you! I'm an artist, muralist & designer.
My art is a quest for the deeper layers of existence. I love to create, paint & design artistic mindfucks to reset and refresh your brain. When I was younger, I experienced the magic of art when I saw Magritte's painting 'The Empire of Light'. I was blown away by the possibility of painting the impossible. This has always been an essential motivation in my work, the game between illusion and reality.
It intrigues me, it makes me wonder. It makes me realize that we live on an incomprehensibly beautiful planet floating around in an infinite universe, where everything is 'real', but we can't fully understand it. By painting I try to master reality and increase my comprehension.
I describe my art as Conscious Art, because for a moment I want to make you aware of the subconsciousness. ;)
I get my inspiration from nature, hip hop, ancient cultures, paradoxes and... food!
Food is a way of understanding reality because you literally digest it, as Dali puts it: "The jaw is our best tool to grasp philosophical knowledge". My muse, my love TV Chef London Loy inspires me to further explore the world of food. With my fashion label LA BARBE BLEUE I make my art visible in public space as contemporary streetwear. T-shirts & Sweaters are my canvas, you are my gallery. My style is colorful, visually strong, refined with a powerful message.
For more than 20 years I'm working as a professional artist. I did many exhibitions, shows, live paint performances and made many paintings and commissioned works. I enjoyed every one of them and I'm striving for unexpected powerful results each time. Never stop exploring your creative powers!
Tell me about your ideas for a painting, mural, T-shirt, graphic design, sculpture or logo and I'll give you the magic you need .
Love to hear from you!

CV
MURALS / STREET ART
• OLIEBOLLENJAM REWRITERS010 / ROTTERDAM 2023
• FLOWERBOMB / PRIVATE HOME BATHROOM / VLAARDINGEN 2022
• TASTE MY CULTURE (STREET ART) / MAURITSHUIS & NN / DEN HAAG 2022
• GRILLED (STREET ART) / RESTAURANT LA CABANE DE FABIAN / ROTTERDAM 2021
• SCARLET IBIS / BACKYARD NICHE / ROTTERDAM 2020
• SHEEP / RESTAURANT ANA'S LAM DIS / UTRECHT 2020
• KYBURGER / PRIVATE HOME / ROTTERDAM 2019
• DESIGNS / RESTAURANT PETER'S BISTRO / UTRECHT 2019
• SISZ / FASHION STORE SISZ / AMSTERDAM
• SOUND OF LOVE / MIXTBABY HAIRDRESSER / AMSTERDAM
• ROMAN GODDESS / PRIVATE HOME SWIMMING POOL / GROESBEEK
• FROG / PRIMARY SCHOOL / DORDRECHT
• VIEW / PRIVATE HOME / GARDEN
EXHIBITIONS
• SOLO EXHIBITION EARTHCREAM / NICHE ROTTERDAM / ROTTERDAM 2022
• SOLO EXHIBITION DELICIOUS / REWRITERS010 MARKTHAL / ROTTERDAM 2021
• PUBLIEKE WERKEN 'GLORIFICATION' / OUTSIDE ART SHOW / ROTTERDAM 2021
• PUBLIEKE WERKEN 'SKYBURGER' / OUTSIDE ART SHOW / ROTTERDAM 2020
• PAKJE KUNST / KUNSTUITLEEN ROTTERDAM / ROTTERDAM 2018
• STREETFLAVOUR / ROEST / AMSTERDAM 2015
• MODE MARCHÉ / SCHOUWBURG / ROTTERDAM 2015
• LES VISIONNAIRES - MARIEKE PRUIS / SLUIJTER & MEIJER / ROTTERDAM 2015
• THE FUTURE OF FASHION IS NOW / BOIJMANS VAN BEUNINGEN / ROTTERDAM 2015
• SOLO RAUWE VERFIJNING / WENDEL DESIGN / AMSTERDAM 2014
• FITAX1000 / TUPAJUMI / SIDESHOW ART ROTTERDAM / ROTTERDAM 2014
• EEN FRISSE BLIK -ASO- / GEMEENTEHUIS RIDDERKERK / RIDDERKERK 2013
• NORTH SEA JAZZ ART SHOW / AHOY / ROTTERDAM 2013
• FRAME THE ARTIST / TENT ROTTERDAM & GRAFISCH LYCEUM / ROTTERDAM 2013
• ASO ART SQUAD / GUERRILLA STORE & EXPO / ROTTERDAM 2013
• TUPAJUMI SUPER RE:SELLER SHOW / RE:ROTTERDAM ART FAIR / ROTTERDAM 2013
• MARCHÉ DU NORD / ROUTE DU NORD / ROTTERDAM 2013
• ASO PEINTURE SUR LE CITY / PLEIN DU PUBLIQUE / ROTTERDAM 2013
• ASO DENIM by YOU / ASO ART SQUAD / ROTTERDAM 2013
• SWANMARKET / SEVERAL LOCATIONS / ROTTERDAM 2013
• KERST AAN DE COOL / BAZAR BIZAR / LANDGOED VAN COOL TOT TERHAVE / ROTTERDAM 2013
• SWANMARKET / SEVERAL LOCATIONS / ROTTERDAM 2012
• HANGERS / DOEN / ROTTERDAM 2012
• SALON / DUENDE / ROTTERDAM 2012
• STAD van mijn DROMEN – DUIVEL SUPPORT EXPO / MELKWEG / AMSTERDAM 2012
• BROOKLYN HOUSEPARTY II / POSTHOORNKERK / AMSTERDAM 2012
• ASO RAUWE KADE CATWALK FASHION SHOW / STAND OUT TO SEA FESTIVAL HAVENMUSEUM / ROTTERDAM 2012
• SOLO HUMANATURE / MIXTBABY / ROTTERDAM 2011
• T-SPOT POP-UP / DESIGNERSTORE T-SPOT / ROTTERDAM 2011
• SNOTNOSE / VITRINE CENTRUM BEELDENDE KUNST / ROTTERDAM 2011
• HIT 'N RUN BAZAR BIZAR / LOKET NS STATION BLAAK / ROTTERDAM 2011
• SOLO ODE TO HIP HOP / DE DUIVEL / AMSTERDAM 2010
• LA GITANE / CENTRUM BEELDENDE KUNST / ROTTERDAM 2010
• CANTAVIDA/EAT YOUR HEART OUT / TRENDBEHEER @SECONDROOM/MOORDNOCES / BRUSSEL 2010
• ASONOOM FASHION SHOW / STREETLAB BIJLMER / AMSTERDAM 2008
• ASONOOM UPPERWAREHOUSE FASHION SHOW / WERELD WITTE DE WITH FESTIVAL ARMINIUS / ROTTERDAM 2008
• SOLO ODE TO HIP HOP (BLACKSOIL) / CENTRUM BEELDENDE KUNST / ROTTERDAM 2007-2008
• SOLO HAPPY AVENUE / WATERFRONT / ROTTERDAM 2007
• NORTH SEA JAZZ FESTIVAL / AHOY ART JAZZ / ROTTERDAM 2007
• NINE MOODS ASO FASHION SHOW / MEET THE STREETS FESTIVAL MAASSILO / ROTTERDAM 2007
• ELEPHANT PARADE / ABN AMRO BANK / ROTTERDAM 2007
• TIC TOC SUBRIZZLE / WORM / ROTTERDAM 2007
• SOLO AANSTORMEND TALENT / GALERIE BLANCHE ART PRODUCTIONS / HELLEVOETSLUIS 2006
• SOLO FOCUZ / SNEAKERZ ON THE BEACH / BLOEMENDAAL 2006
• PURE PLAAG / LOCUS010 / ROTTERDAM 2006
• ASO-ZWAAR / CUCOSA / ROTTERDAM 2006
• SOLO SKILLZ / BLEND GUERRILLASTORE HILTON / ROTTERDAM 2005
• SOLO MIXT / MIXTBABY / ROTTERDAM 2005
• WEARABLES II / PUNCT / TILBURG 2005
• GOING TO A GOGO / CALYPSO / ROTTERDAM 2005
• BOUTIQUE ZONDER LABEL / CENTRUM BEELDENDE KUNST / ROTTERDAM 2005
• FACE THE WALLS / GALERIE WALLS / AMSTERDAM 2003
• SOLO DISCOVERY OF FACES / LOUNGE OFF_CORSO / ROTTERDAM 2002
• SOLO TRANCENDANCE / MAIN STAGE OFF_CORSO / ROTTERDAM 2002
• CUCOSA IMPORTIERT AUS BERLIN / CUCOSA / ROTTERDAM 2001
• SOLO ONDERSTEBOVEN OFZO / CULTUURMAKELAAR DELFSHAVEN / ROTTERDAM 2000
• CUCOSA EXPORT / KUNSTFABRIK AM FLUTGRABEN, 2YK GALLERY / BERLIJN 2000
• RET EK-DAGKAART / STADHUIS ROTTERDAM CENTRALE HAL / ROTTERDAM 2000
• EINDEXAMEN-EXPOSITIE WILLEM DE KOONING ACADEMIE / KUNSTHAL / ROTTERDAM 1999
• SOLO WAT-ER ? / GALERIE TAMBU / ROTTERDAM 1997
LIVE PAINT PERFORMANCES
• OLIEBOLLENJAM REWRITERS 010 / ROTTERDAM 2023
• WENDEL DESIGN TABLE PAINTING / INTERIEURBEURS JAARBEURS / UTRECHT 2013
• SAPPIG! / HOTEL ARENA / AMSTERDAM 2007
• HIPPOPPERS VS UNICORN / OFF_CORSO / ROTTERDAM 2007
• OFF_SCHEDULE - D'ESTILO / AMSTERDAM FASHIONWEEK IN KOEPELKERK / AMSTERDAM 2007
LIVE PAINTING ART IS A BATTLEFIELD with ANNE MERCEDES LANGHORST
• NORTH SEA JAZZ TRUE COLOR / AHOY CONGO SQUARE / ROTTERDAM 2013
• MARCHÉ DU NORD / ROUTE DU NORD / ROTTERDAM 2013
• STICK TOGETHER PAINT CLUB BATTLE / ROEST / AMSTERDAM 2013
• MOTEL MOZAÏQUE CATERPILLAR / SCHOUWBURGPLEIN / ROTTERDAM 2013
• CAMERA JAPAN FESTIVAL / LANTAARNVENSTER / ROTTERDAM 2010
• CAMERA JAPAN FESTIVAL / CENTRUM BEELDENDE KUNST / ROTTERDAM 2010
• HOLLANDSE NIEUWE / VLAGGETJESDAG SCHEVENINGSE HAVEN / SCHEVENINGEN 2010
• BLOTE VOETEN / GALERIE KING KONG / DEN HAAG 2008
• BRING IT ON! LIVE / NCRV TALENTSPODIUM, METROPOOL / HENGELO 2008
• BRING IT ON! LIVE / NCRV TALENTSPODIUM TIVOLI / UTRECHT 2008
• FASHIONBATTLE STREETLAB / MENEER DE WIT / AMSTERDAM 2008
• GRAFFITIBATTLE VS LUCKY DUBZ / TENT / ROTTERDAM 2008
• OPENING ART JAZZ / NORTH SEA JAZZ FESTIVAL AHOY / ROTTERDAM 2007
• DZZJUNK MUSEUMNACHT / PAKHUIS 6 / ROTTERDAM 2007
• SNEAKERZ / PANAMA / AMSTERDAM 2006
AWARDS
• WINNER MAURITSHUIS MURALS / MAURITSHUIS / JOUBERTPLEIN DEN HAAG 2022
• WINNER REWRITERS010 EXHIBITION OPEN CALL / REWRITERS 010 / MARKTHAL ROTTERDAM 2021
• SECOND ROUND KONINKLIJKE PRIJS VOOR DE SCHILDERKUNST / AMSTERDAM 2011
• AANSTORMEND TALENT 2006 BLANCHE ART CATEGORIE SCHILDERKUNST / HELLEVOETSLUIS 2006
• NOKIA & BLEND DESIGN CONTEST / NOKIA PHONE DESIGN - BLEND EXHIBITION - TRIP NEW YORK / ROTTERDAM 2005
• EK-DAGKAART RET DESIGN BELGIË / ROTTERDAM CITY OF SPORTS EK SOCCER / STADHUIS / ROTTERDAM 2000
• EVERYONE IS AN ORIGINAL / CHESTERFIELD CAMPAGNE THEME FRIENDSHIP / GRONINGEN 1996
COMMISSIONED WORKS
ILLUSTRATIONS LET'S GO COOKBOOK / LONDON LOY – NIJGH & VAN DITMAR PUBLISHERS / 2022
ILLUSTRATIONS LIFE CIRCLE TOOL / INRETAIL / 2022
MURAL FLOWERBOMB / PRIVATE ASSIGNMENT / 2022
MURAL MAURITSHUIS / MAURITSHUIS / 2022
HAND PAINTED T-SHIRT SOSO LOBI / LONDON LOY / 2022
HAND PAINTED T-SHIRT MAMA'S RENDANG & STAFF T-SHIRTS / KASTEEL KERCKEBOSCH / 2022
HAND PAINTED T-SHIRT TIGER 1962 / PRIVATE ASSIGNMENT / 2022
HAND PAINTED SAYA / CHEF WANTO / 2022
HAND PAINTED SWEATER X-MAS RED PEPPER / LONDON LOY / 2021
HAND PAINTED T-SHIRT FRUIT EXPLOSION / NUDGE SLOWJUICE / 2021
HAND PAINTED SIGN BOARD / NICHE FLOWERSHOP / 2021
HAND PAINTED T-SHIRT FRANGIPANE / PRIVATE ASSIGNMENT / 2021
HAND PAINTED BABYSUIT JOANY / PRIVATE ASSIGNMENT / 2021
HAND PAINTED T-SHIRT HOKUSAMURAI COFFEE / LONDON LOY / 2021
LOGO DESIGN MINDSETSHAPERS / PERNILLE LA LAU / 2020
MURAL SHEEP RESTAURANT ANA'S LAMB DIS UTRECHT / HERMAN DEN BLIJKER – TV SHOW CRISIS IN DE TENT / 2020
T-SHIRT DESIGN GRILLED RED PEPPER / PRIVATE ASSIGNMENT / 2020
HAND PAINTED T-SHIRT TISSA FONTANEDA / .. / 2020
MURAL SCARLET IBIS / NICHE FLOWERSHOP / 2020
HAND PAINTED T-SHIRT LANGOUSTINE / PRIVATE ASSIGNMENT / 2020
HAND PAINTED APRON / PRIVATE ASSIGNMENT / 2020
LLUSTRATIONS MIJN RECEPTEN COOKBOOK / LONDON LOY – CARRERA / 2020
LOGO DESIGN RESTAURANT POVERETTI 'S GRAVEZANDE / HERMAN DEN BLIJKER – TV SHOW HERRIE IN DE KEUKEN / 2020
More to come, still updating my site... ;)
WORKSHOPS / COURSES
• PAINT & TASTE SURREAL KAPSALON WORKSHOP / WERELDMUSEUM ROTTERDAM - MUSEUMNACHT / 2023
• STREET ART ON YOUR T-SHIRT / SKVR – JOHAN CRUYFF FOUNDATION – DE HEF – AFRIKAANDERPLEIN / 2022
• B-DAY TIE DYE T-SHIRT / STUDIO ROTTERDAM / 2021
• TIE DYE T-SHIRT / NICHE ROTTERDAM / 2020
• DE KUNSTENAAR IN JOU COURSE WITH 8 LESSONS with MARIEKE PRUIS / STUDIO ROTTERDAM / 2019-2020​
​